"AS A LEADER IN THE AUDIOVISUAL INTEGRATION AND SERVICE MARKET, WE TRUELY BELIEVE THAT CSR MUST ALWAYS BE A CENTRAL COMMITMENT GUIDING OUR DAILY ACTIONS.
The CSR approach has always been a core strand of Videlio's DNA. This has of course been amplified by changes in regulations and by external constraints, but motivated above all by the deep commitment of
Videlio's teams, tied to a requirement for actionable measures: collective actions for and with our collaborators, for and with our clients, for and with our suppliers. We believe that together we can have a real impact on the vast environmental and societal challenges we face today and will face tomorrow.
Driven by our mission and values, we have defined 7 strategic priorities in 2021. CSR is at the heart of 2 of these priorities:
• The "Great Place to Work" program aims to promote development, health and well-being in the work-life of Videlio's teams
• The "sustainable development" policy focuses on the circular economy, the environmental footprint of our activities and the quality of our relationship with our ecosystem
Our position as a leader in the audiovisual integration and service market, positioned squarely between equipment manufacturers and users, creates a responsibility and confers a determining role to Videlio in the offering of sustainable solutions. We must be a driving force to change the way we produce and consume, and promote sustainable, recyclable and repairable equipment. We have a duty to provide our clients with solutions that are both technically efficient and environmentally friendly, based on criteria of
sustainability and reparability. More broadly, we believe that acting responsibly with all our stakeholders is not just a necessity, but also an essential factor in our group's success and sustainability.
To this end, we have defined an ambitious and thorough roadmap, assessing our practices and measuring our performance and progress. We encourage our partners throughout the supply chain and expect them to commit themselves alongside us and to be accountable for their actions.
In 2022, it is up to each of us to choose and act responsibly on a daily basis — a commitment and a source of motivation for Videlio collaborators.
Find out more
Adopting a responsible approach has always been an essential part of Videlio's DNA !
As such, for over 10 years, Videlio has been assessing its non-financial performance thanks to labels and certifications. This external evaluation process is part of an effort for continuous improvement, accountability and
transparency.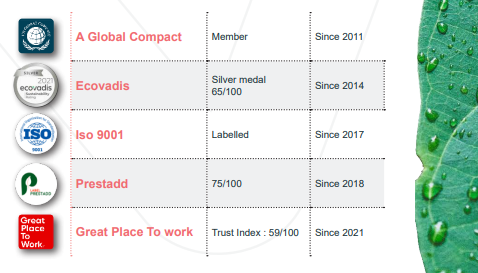 To have a sustainable impact on society and the environment by creating sustainable value for all our stakeholders.
Videlio's mission is "to simplify daily life and enhance experiences through our sustainable professional audio and video services and solutions," which places CSR issues at the heart of our action. In line with its vision and mission, Videlio's CSR commitments focus on 3 points: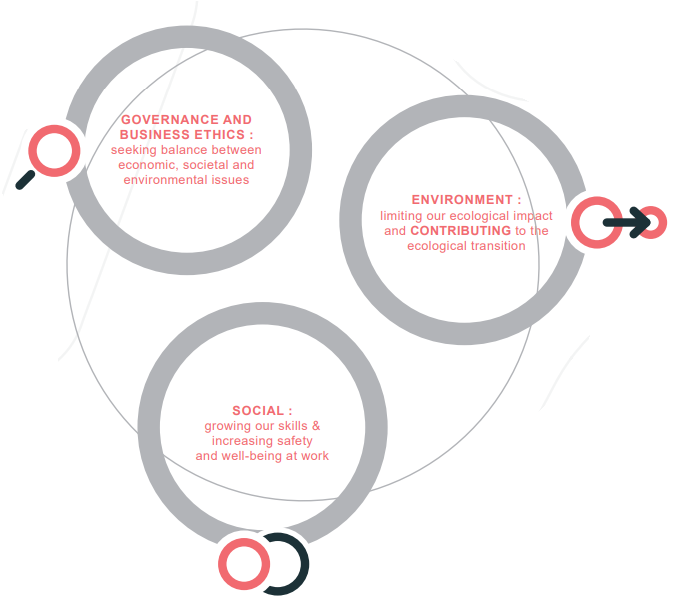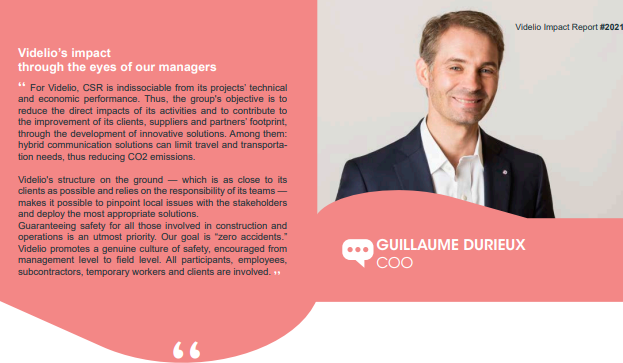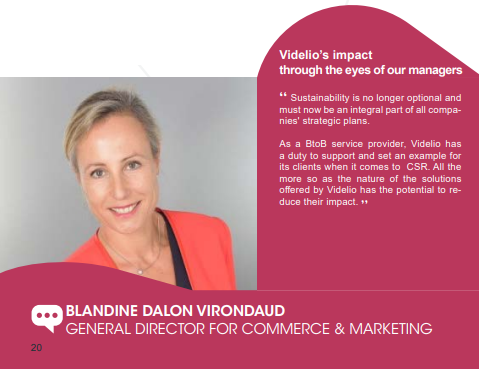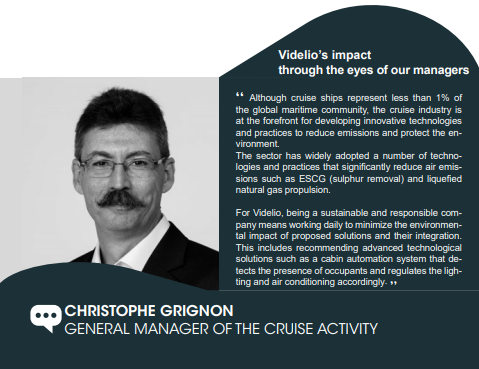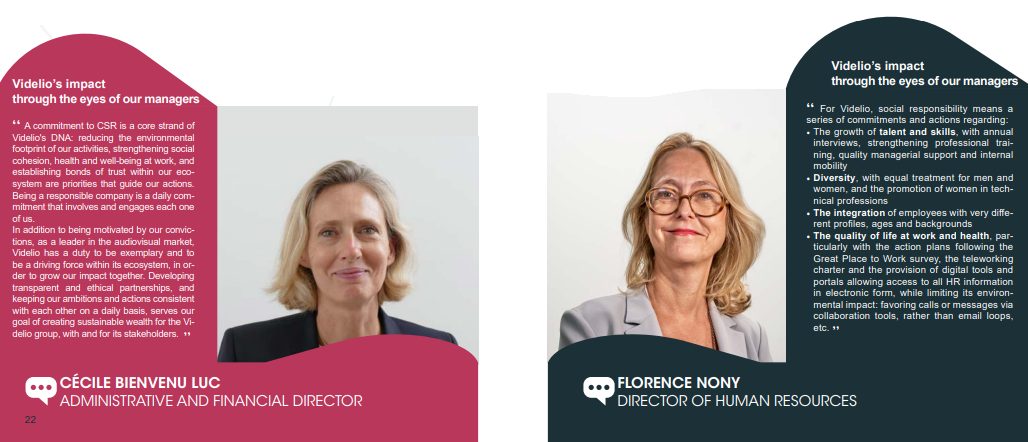 From commitments to actions
GOVERNANCE & BUSINESS ETHICS
Seeking a balance
Between economic, societal
And environmental issues
Innovation and eco-design
Ensure a responsible purchasing policy
Territorial network
ENVIRONMENT
Limiting our ecological impact
and contributing to
the ecological transition
A controlled and measured impact
Helping our customers control their impact
Responsible work spaces
SOCIAL
Growing our skills
& increasing safety
And well-being at work
Safety is a priority
Supporting positive managerial behavior
Fairness as guideline
Searching for a company where life is sweet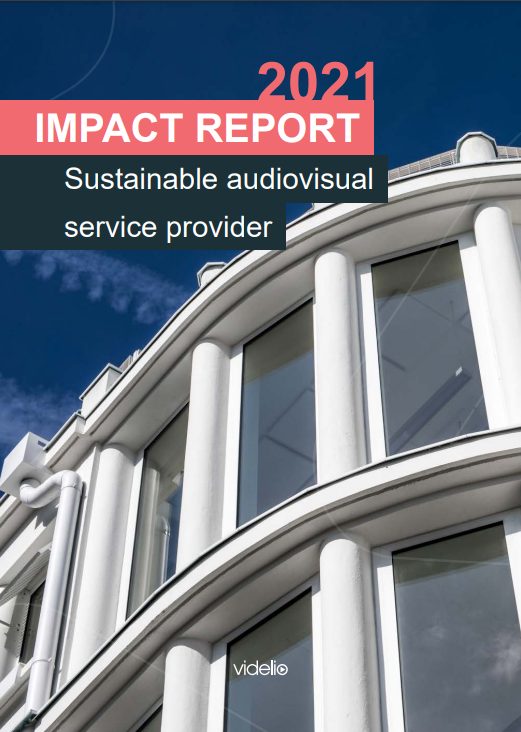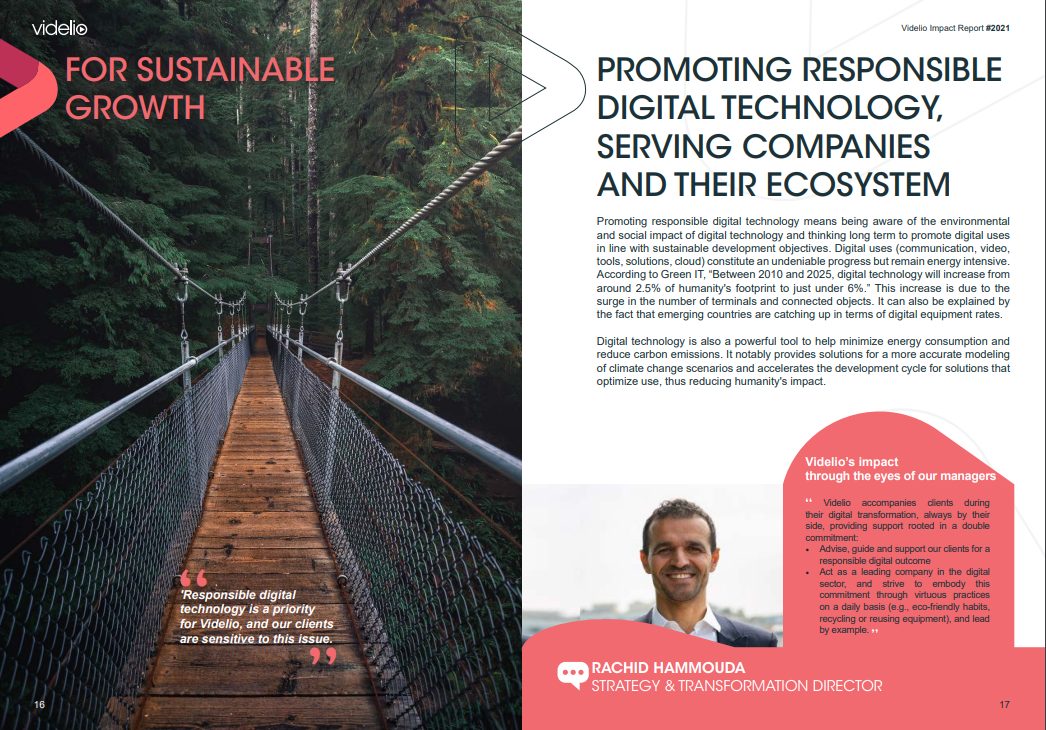 Access the 2021 impact report
About Videlio
Our vision? We want to unleash the power of technology to enhance our customers' experience