TAYLOR-MADE SPECIAL FURNITURE

Carpentry workshop – Special technical furniture – Personalized transmission furniture

I have a project
The secret of good technical integration is its perfect installation in its environment, the optimization of its space and the ergonomics of the workstation for the technician who will operate the equipment.
You can have personalized furniture, integrating these materials and fitting perfectly into the project. This will allow the client to benefit from a quality project, made in France, all within specific deadlines.
In the most cramped places such as coaches, stage control posts, or even amphitheater control posts, specially made technical furniture provides perfect optimization.
From design, to the integration of equipment, including the manufacture of furniture EACH PROJECT IS UNIQUE. Particular attention is paid to its ergonomics and design.
The Videlio manufacturing workshop teams have great skills in optimizing place in a constrained space.
From an empty frame, the space will be partitioned according to your needs while ensuring you a high level of aesthetics and ergonomics.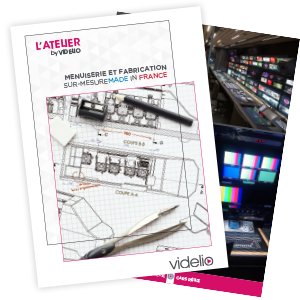 Services
Videlio experts support you at all stages of your thoughts and projects. All the services proposed aim to facilitate and enrich the experience of the systems deployed for users.
Skills
Videlio's dedicated skill centers guarantee you services and systems suitable for the various audiovisual problems that you may encounter in your company; with specialist contacts and professionals: coworking, audio-video integration, building management, post-production, events, media, etc.