I have a project
It is a fact that cruise ships are developing, evolving and becoming increasingly modern. What is at stake for shipowners and cruise passengers? Dazzle vacationers to attract an ever-increasing number of people. In fact, shipping companies are bursting with imagination to entertain their clients and offer them ever more spectacular activities. Onboard entertainment has become a major feature of cruise ships.
Videlio supports you with all the professional audio-video systems and services to provide an unforgettable experience for your passengers.
Be contacted by an expert
TAKES CARE OF THE ENTIRE LIFECYCLE OF YOUR PLATFORMS, FROM INCEPTION, THROUGH • ENGINEERING DESIGN AND MANUFACTURING, TO SERVICE AND REVITALIZATION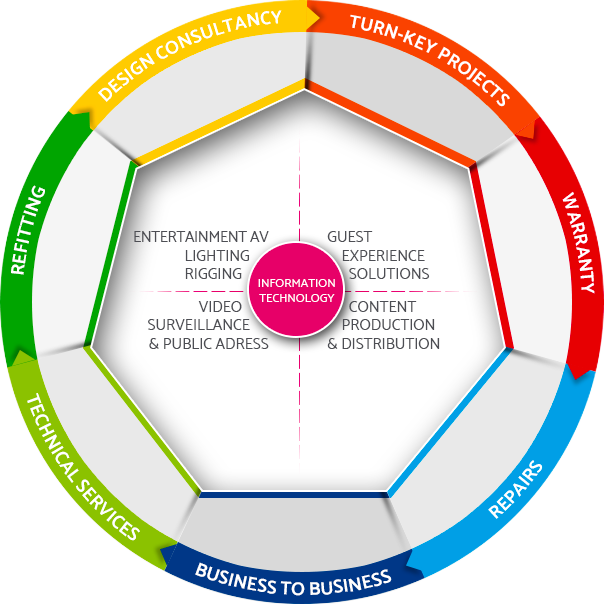 Houselight Dimmer System
Architectural Lighting
Funnel Lighting
Artwork Lighting / Customized Solutions
Sound Systems
Effect Light
LED Video Walls
Digital Signage
Broadcast Studio
Control System
Video System
Special Custom Machines
Elevator Systems
Flying Performers
Movable Led Wall Structures
Hatches
Motorized Hoists
Motorized Curtain
Public Address and General Alarm System including Background Music distribution
Talk Back System
UHF Walkie Talkie System
CCTV
Hospital Call System
VIDELIO PROPOSALS THAT CAN MEET YOUR NEEDS
Services
Videlio experts support you at all stages of your thoughts and projects. All the services proposed aim to facilitate and enrich the experience of the systems deployed for users.
Skills
Videlio's dedicated skill centers guarantee you services and systems suitable for the various audiovisual problems that you may encounter in your company; with specialist contacts and professionals: coworking, audio-video integration, building management, post-production, events, media, etc.
Ready to take this step?
Let's talk about it