HOW TO MAKE A DIFFERENCE AT A TRADE SHOW BY USING NEW TECHNOLOGIES ?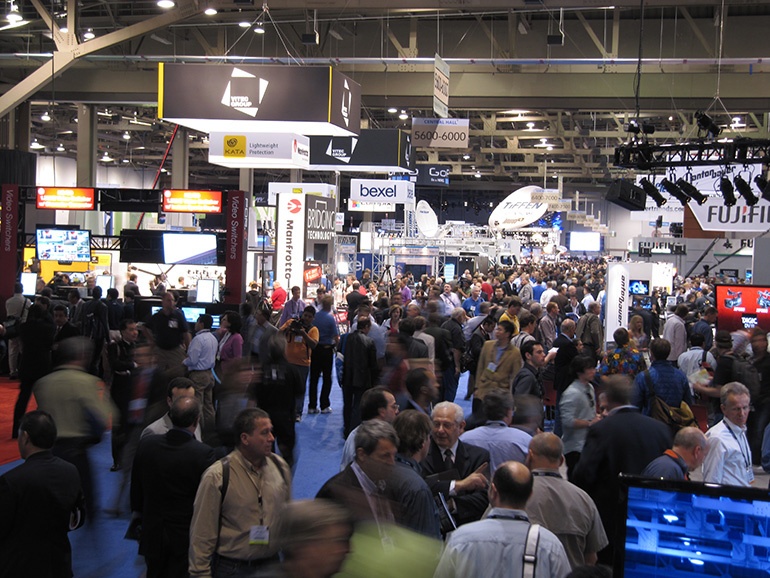 HOW TO MAKE A DIFFERENCE AT A TRADE SHOW BY USING NEW TECHNOLOGIES ?
In 2017, 566 professional, consumer and other exhibitions were organised in France, bringing in over 13 million visitors. For a professional, being present at a show implies high stakes and significative expenses. Trade shows allow to make yourself known to the public but also to meet prospects, generate leads and follow the new trends. Today, it is getting increasingly difficult for an exhibitor to stand out from his competitors, therefore the question begs to be asked : how can i stand out from the booth next to mine ?
First of all, by attracting the audience through powerful digital communication media, to inform of one's presence at a trade show and give them the desire to visit your booth. By using E-Mail campaigns, online advertising and social networks, the Internet is the best media to disseminate information in a fast and efficient manner. On location at the show venue, technology takes over. Indeed the era of Kakemonos is truely obsolete, replaced today by screens, gadgets and all kinds of animations. The new technologies available today offer a wide choice of innovative solutions to surprise and attract attention thereby making the visitors want to remain on your booth. VIDELIO – Events has found for you some of the moàst innovative devices :
Touchscreens with applications : allowing to discover a brand through games or animated presentations
Interactive animations : such as WE ARE BODY a solution giving visitors the possibility to create a photo of their body outline through personnalised particles
The Social Wall : the audience can express itself through social media and share the show experience beyond the walls of the venue
Display walls : show your media on large LCD screens
LED walls : the large display formats available with LEDs will certainly be the hot trend for 2018 trade shows in France ! LED panel offer high visibility even from afar and allow a wide variety of formats, including the most unusual
Innovative screens : there is today a new generation of screen technologies which is very little-known by the mainstream public  and offer interesting opportunities to make a difference at a trade show. Among them, the transparent screen and the mirror screen which can also be made interactive thanks to solutions developed, thus allowing the visitor to actively discover the entire universe of the brand
VIDELIO – Events has a range of solutions to make your exhibit stand out from the competition by using innovative technologies at the service of its clients. To illustrate the statement, let's discover some of the shows of the 2016 – 2017 season :
•    Paris Games Week – Sony PlayStation Booth : 
During the 2017 Paris Games Week show, the VIDELIO – Events teams supplied the Sony PlayStation booth with a LED video wall with 2.5mm LED Spacing as well as a 152 inch Plasma screen. A large scale setup for the biggest gaming gathering in France where competition between suppliers is ferocious. The 152″/3.86m Plasma screen created a sensation and caught the public's eye thanks to its huge size, thus allowing the Sony PlayStation booth to broadcast its presence over the entire exhibition complex of the Paris – Porte de Versailles. Along with the video display, a powerful D&B sound system was installed to immerse the visitors in the Sony PlayStation experience.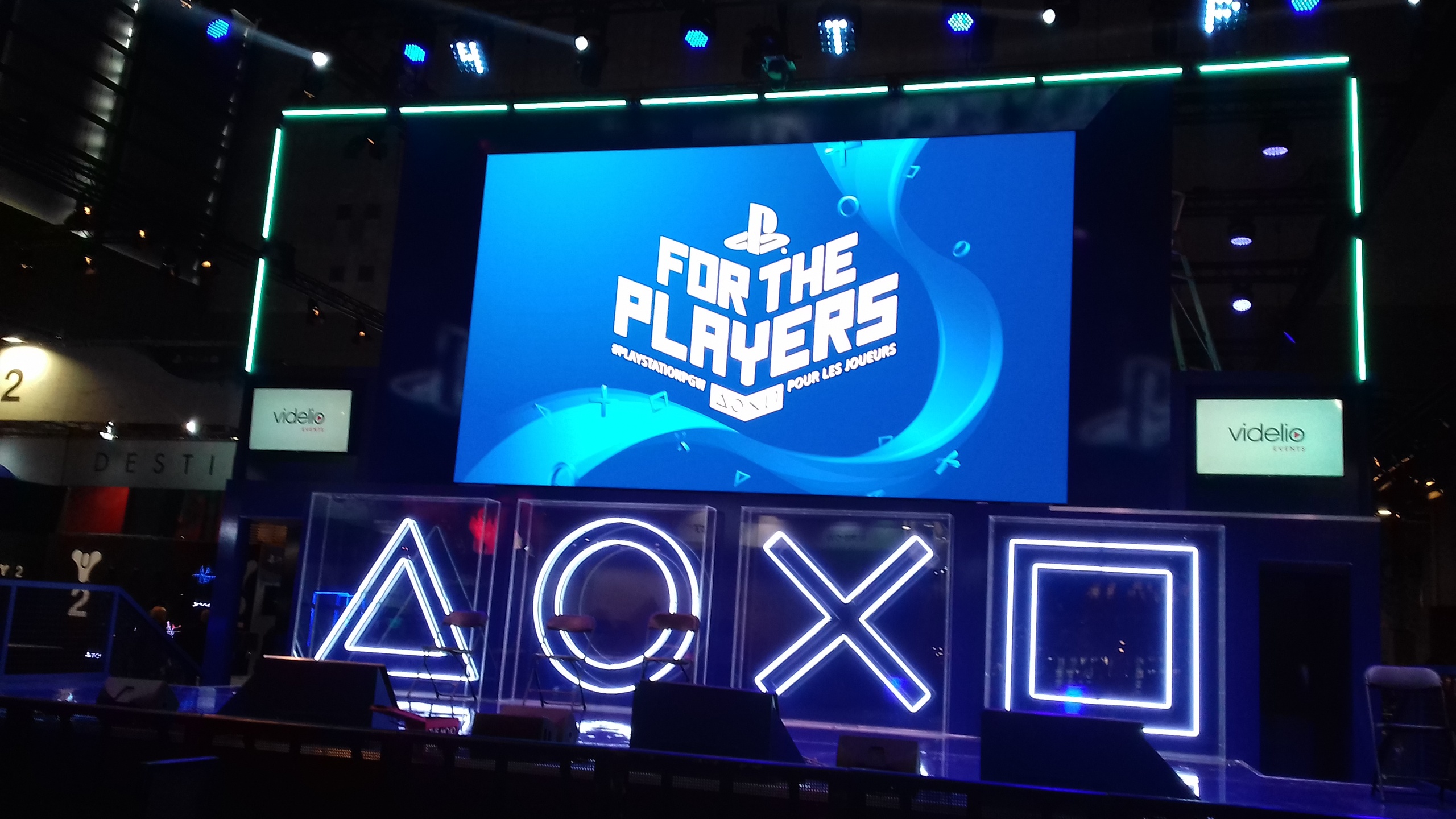 •    Mayor's trade show – Veolia booth for Icône One :
At the 2017 Mayor's trade show our teams were in charge of the entire Veolia booth. To cover the large area, no less than 13 touchscreens of 32 inch size were required as well as four 46 inch touchscreens to encourage interaction with the visitors. In addition, another 46″ screen and several video display walls were installed to show various contents throughout the duration of the exhibition. Finally, we also setup a LED video wall surrounded by decorative living vegetation.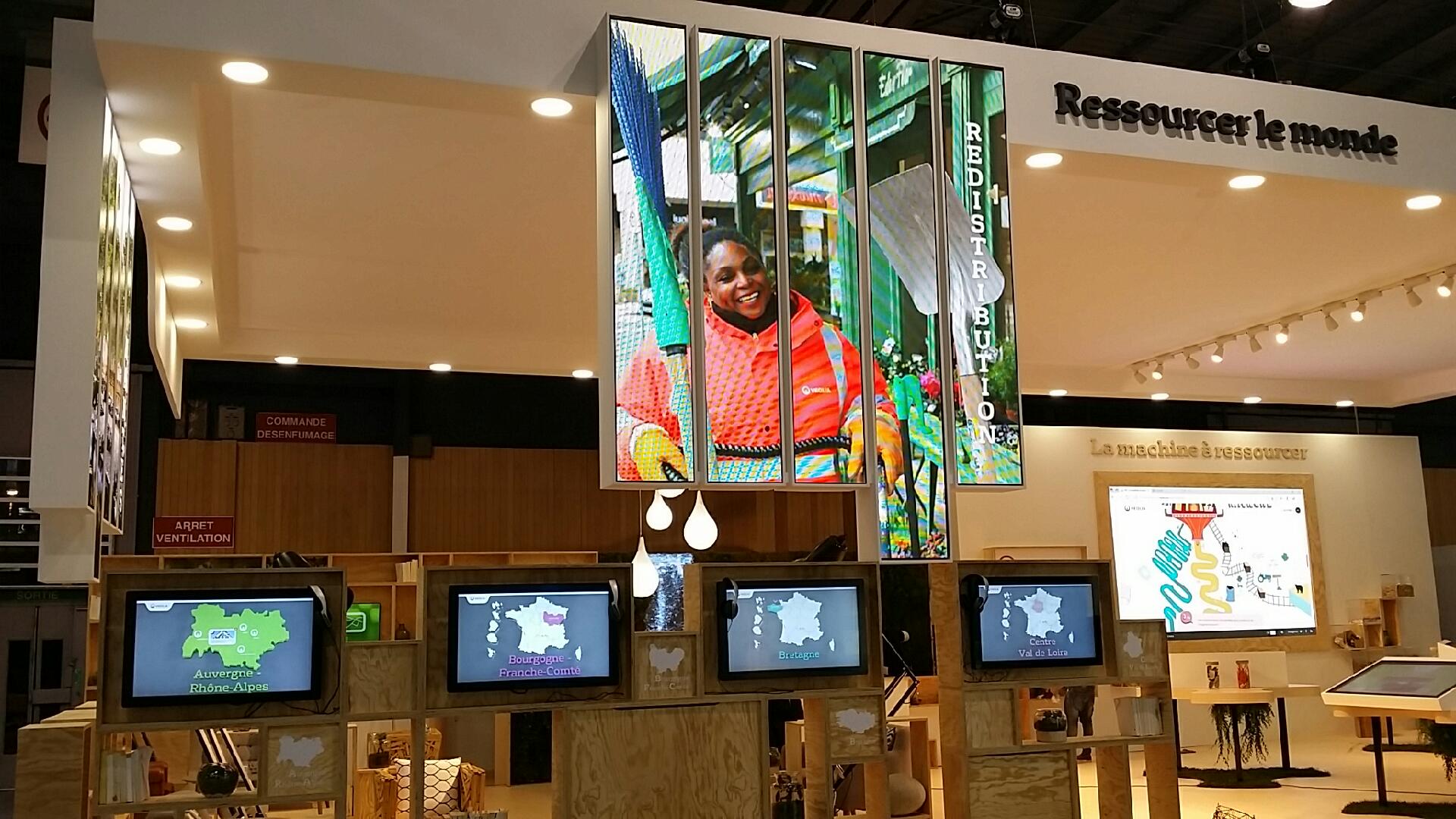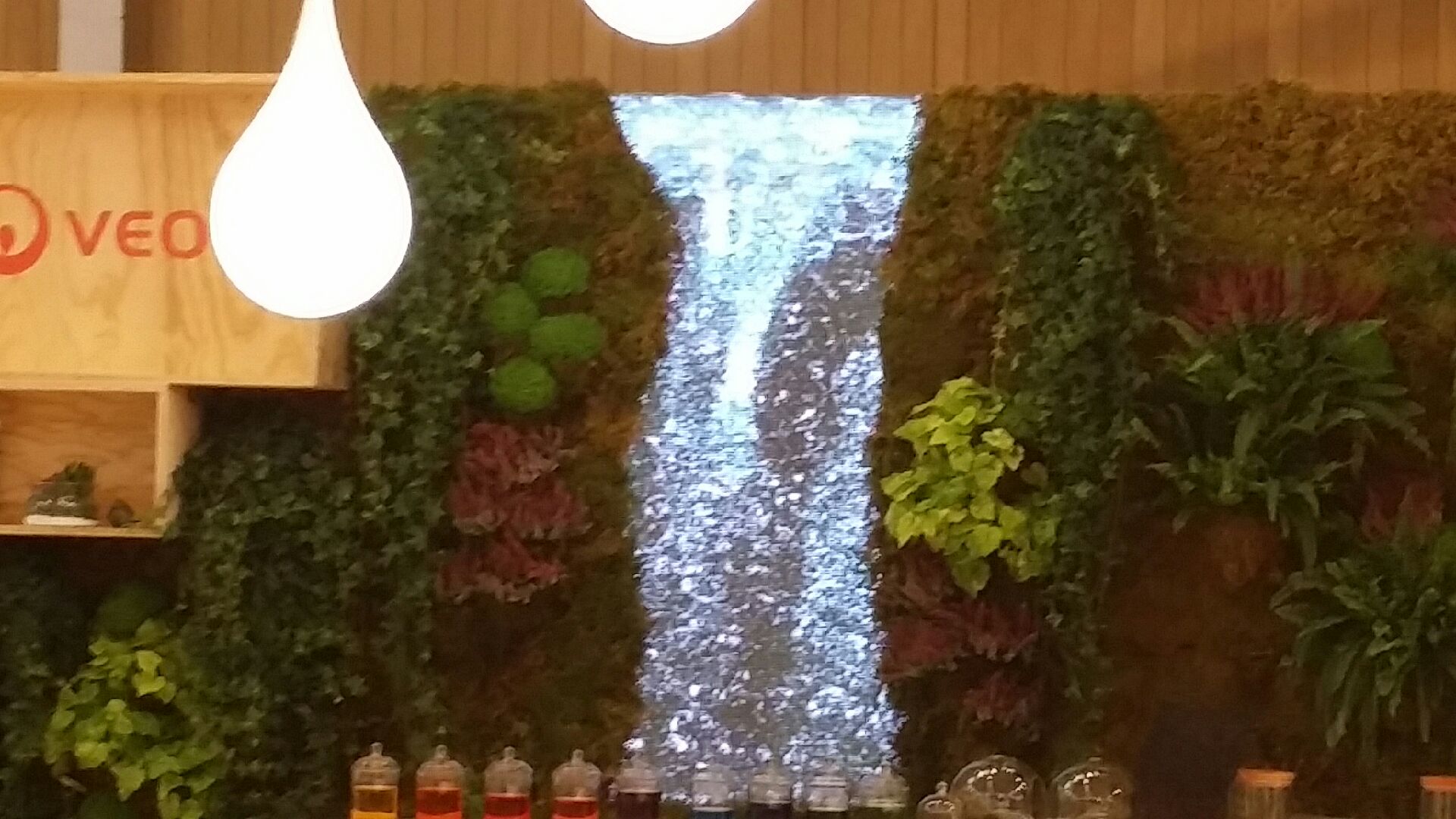 At the " Mondial de l'Auto 2016 " the world french car show taking place in Paris every two years, VIDELIO-Events partnered with several companies to fit out their booths :
•   Modial de l'auto – Michelin booth for Hopscotch :
World-known Michelin co. also let itself be seduced by the new technologies. Indeed the exhibition visitors got to use various touchscreens, a not well-known new technology which is very seductive. A 55 inch video wall and a giant circular LED screen covering all 360 degrees of the compass. Various tools allowing the company to communicate in different manners to its audience.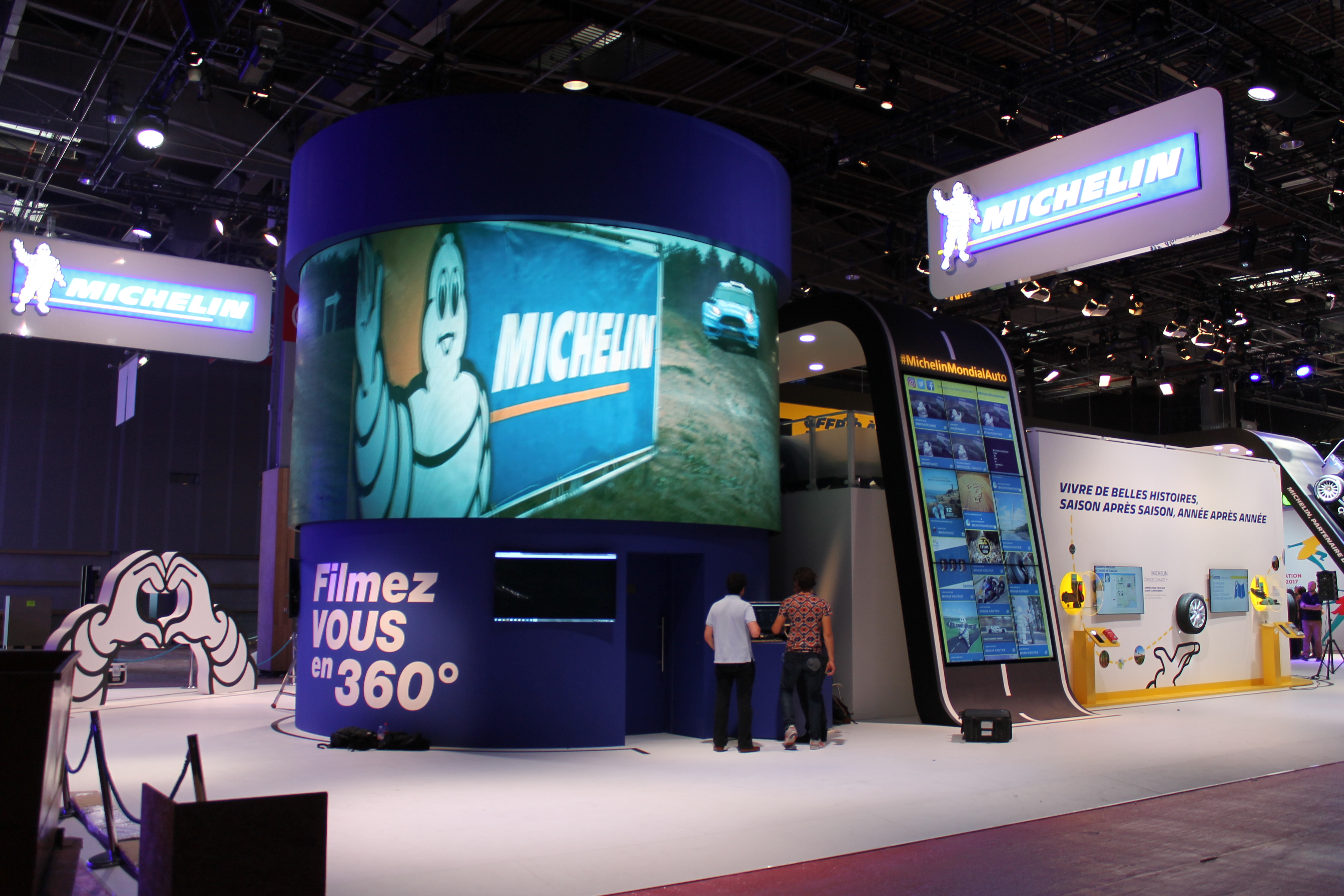 •    Mondial de l'Auto – Valeo booth for Auditoire : 
To attract attention, Valeo decided to install a LED wall but in a concave shape to make the booth more immersive. In addition, a mirror screen was also set up to create a thermal camera animation, interactive attention guaranteed.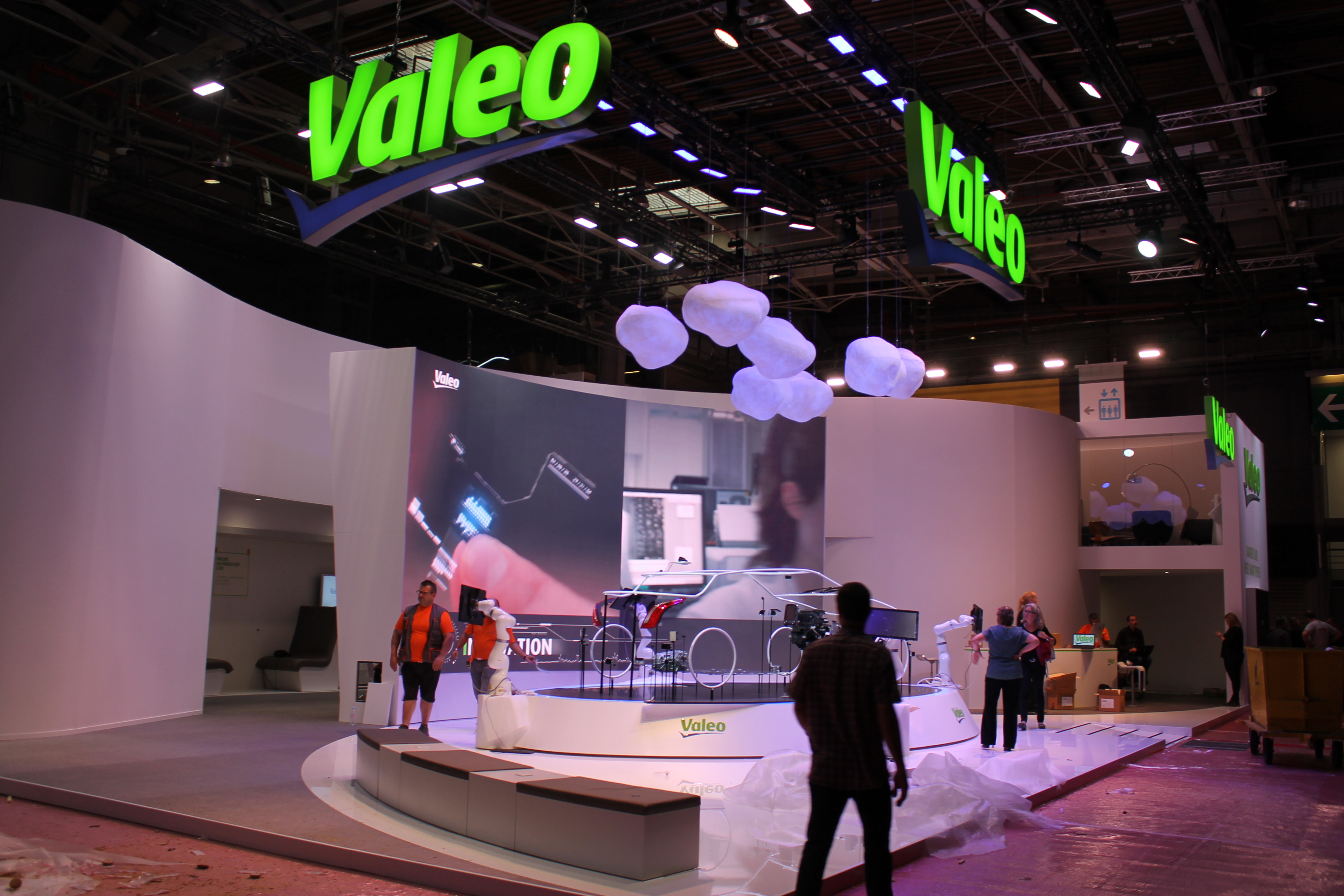 Mondial de L'auto –  Plastic Omnium booth for Auditoire : 
Transparent screen were on display on the Plastic Omnium booth during the " Mondial de l'auto " ! The perfect display format for presenting product !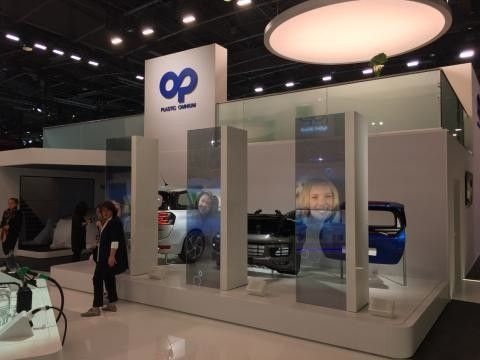 What are you waiting for to make the step ? for 2018 place your bet on a 100 % high-tech booth, products available today which will allow you to gain visitor attention and which will contribute to make your company shine throughout the exhibition venue.