Which post-production service provider do you choose when you have very short lead times?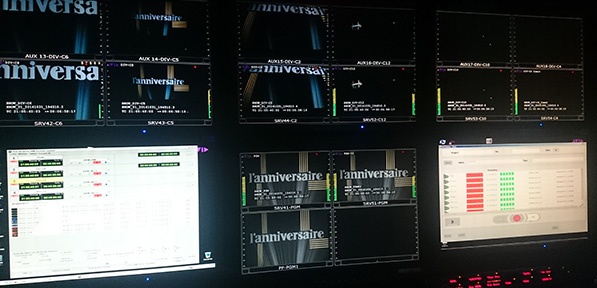 KM PROD
Which post-production service provider do you choose when you have very short lead times and a need for immediate response ?
CLIENT ISSUES
To celebrate the 30 years of pay-TV channel Canal +, KM Prod was given the task of preparing an exceptional broadcast reuniting all the celebrities who worked at the channel throughout the years.
The importance of the event requiring an impecable result, it was decided the programme would undergo post-production. The show was recorded at the Paris Palais des Sports as if it were a live broadcast.
Shot on a Friday evening, the show was broadcast the following Tuesday night on the 4th of november 2014. Because of the very short time span between recording and broadcast, KM had to find a post-production partner capable of meeting the challenge.
TECHNICAL SOLUTION
VIDELIO – Cap'Ciné installed two Avid AirSpeed 5500 servers in the outside broadcast van belonging to VISUAL-AMP.
The two AirSpeed 5500 machines ingested 8 simultaneous video streams in the DNxHD 120 format. Thanks to the Avid IsoSync feature, the streams are all launched at the same time and the AirSpeed's Segmentation function automatically sorts the segments without stopping the recording. The segmentation process avoids overloading the Media Composer timelines later on during MultiCam editing.
Once the live capture was over, the VIDELIO – Cap'Ciné technical engineer brought the AirSpeed 5500 machines back to KM Prod's post-production site, connected the servers to the Avid ISIS 7000 central storage system, and transfered the data.
The following day, the editing staff retrieved the files and produced the programme using the MultiCam post-production technique.
CUSTOMER BENEFITS
Calling upon the services of VIDELIO – Cap'Ciné as a specialist in the field of post-production solutions, KM Prod benefitted by a team attentionate to the needs of its clients as well as being flexible and reacting promptly. The use of the Avid AirSpeed 5500 machines gave KM Prod the security of a flawless recording and having 8 video streams for the post-production editing.
VIDELIO – Cap'Ciné used its knowledge of the product to optimize its operation considering the context, then to ensure the fastest possible transfer of the files contained in the AirSpeeds 5500 to the post-production facility.
In the context of this case study, the rushes were only used the following day, but the technician in charge of the operation noted that 30 minutes after the end of the recording, the transfers had started. Right from the first minute, the 8 streams could be viewed. The first block of 8 streams, lasting 45 min, was available inside of 20 minutes. The entire recording, representing 8 streams lasting in all 3 hours 30 min was transfered to the post-production ISIS 7000 in less than 2 hours.