La projection pour une immersion totale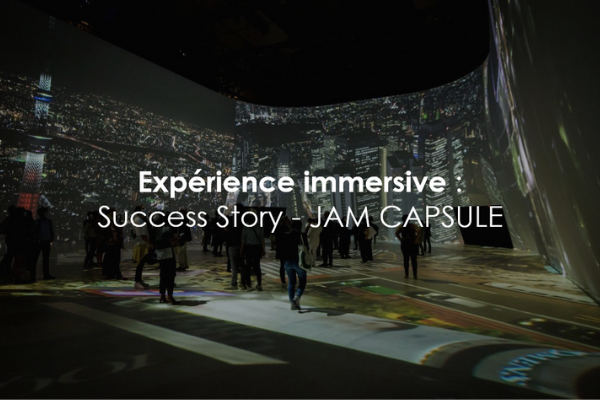 Le sentiment d'immersion est un réel indice de performance des événements d'aujourd'hui, encore plus dans le milieu culturel. Le spectateur veut être plongé dans les œuvres et c'est pourquoi de nouvelles expériences voient le jour.  
Grâce à l'installation d'une projection vidéo 360°, le visiteur est placé au cœur de l'expérience. Un savant mélange de virtuel et de réel emportera alors le visiteur.
JAM CAPSULE :
une expérience culturelle immersive 

Certains lieux, notamment à Paris, font de l'immersion leur spécialité. Grâce à de grandes superficies et une bonne dose d'imagination, les lieux s'adaptent pour recevoir tout type d'événement immersif.  
C'est le cas, par exemple, de La Grande Halle de la Villette qui a accueilli du 23 juin au 12 septembre 2020, JAM CAPSULE, une expérience immersive imaginée par THE JAM PROJECT. 
JAM CAPSULE, un dispositif scénographique immersif unique qui a vocation à faire vivre les œuvres dans un format inédit ! Une projection sur 2500 m2, sol et murs, un système son spatialisé, tout a été mis en place pour permettre au spectateur de vivre une réelle expérience d'immersion.  
« D'un dessin, d'une idée, VIDELIO a réalisé toute la conception technique » – Guillaume DURIEUX, Directeur général VIDELIO  
THE JAM PROJECT est un atelier parisien dédié à la production, la scénographie et la création appliquées au secteur culturel, fondé par ATHEM. VIDELIO est fier d'avoir pu accompagner ATHEM dans la conception et la réalisation de ce beau projet. Les équipes VIDELIO ont pu travailler en amont du projet en transformant cette idée d'espace immersif en un dispositif concret.  
« Nous avons une édition qui se prépare en 2021, que nous allons monter avec VIDELIO bien évidemment, notre partenaire. » – Philippe LIGOT, producteur et concepteur de la JAM CAPSULE »
Pour en savoir plus sur la success story JAM CAPSULE :