What can motivate a director of a shopping centre outlet to use large format LED display?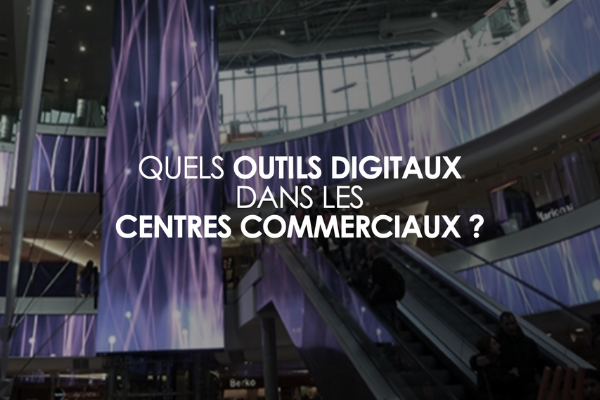 What can motivate a director of a shopping centre or retail outlet to use large format LED display?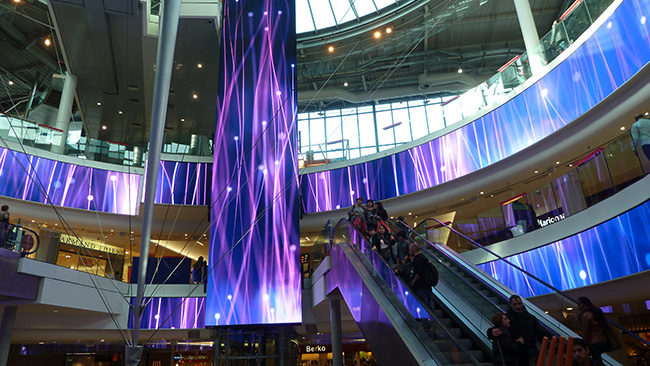 At least 3 good reasons:
Breaking with customary codes: in this era of digital transformation, having an LED wall or large format display is the minimum.
To make an entrance hall or area a "happening place".
For a dynamic identity that highlights content… in perpetual movement and updated in real time.
There's no escaping the technological tools in retail outlets, shopping malls, luxury boutiques and commercial centres that enable (future) customers to be guided, informed and interact with brands: they are everywhere!
But isn't the purpose of these technological solutions only to make people consume more?
Opting for digital technology is to multiply and expand the possibilities. Digital signage, whether in retail outlets, shop windows or a shopping centre, can be used to pass on all kinds of information:
*commercial: brand identity, advertising, current special offers
*logistics: live weather and traffic reports, interactive guide within the shopping centre
*events: hosting an event, welcoming VIPs, promoting social networks in real time
These LED technologies provide access to varied content that can be updated in real time according to the news.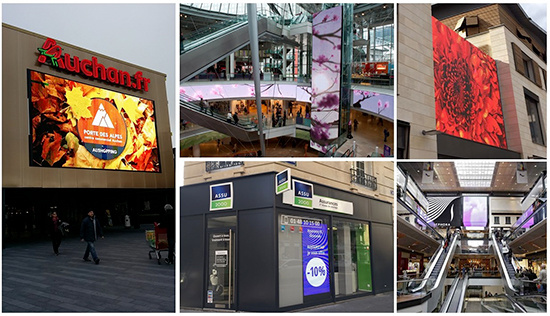 The large format digital display has a much greater impact than print campaigns. It is much more profitable as it enables message content to be changed as many times as required and really captivates the attention of the consumer, whose gaze is naturally attracted towards a screen.
Whether in a shopping centre or a pedestrian street, having an LED screen in the shop window or inside the shop energizes the retail space to attract and then engage the customer.
It's not just brands that are interested in large format display solutions. Shopping centre operators also see an advantage:
Equipping certain areas or a hall with LED solutions means playing the modernity card and offering the necessary infrastructure to companies and advertisers that would like to stage events. Indeed, shopping centres are increasingly being used as venues for fashion shows organized / sponsored by brands. Television channels hold events in them as part of their programmes dedicated to shopping or cooking shows in which a renowned chef will concoct dishes live before the public… All these sales demonstrations will be enhanced by the presence of remote screens that broadcast the event live, thus offering better visibility to clients / spectators and, therefore, brands 4 Temps Defense   https://www.youtube.com/watch?v=n8zgZGHN39c
The brands can also use this display surface outside their shop windows as an advertising medium, disseminating information about current special offers, flash sales that only last a day, etc.
LED information dissemination technologies play a role in optimising the shopping experience by enhancing the image of brands that use them.
In retail outlets or shopping malls, shop window LED displays enable the intended message to be passed on to customers. National deployment enables a retail chain or brand to launch its communication campaigns "in real time", without having to go through the printing process and then roll-out through an agency.
Digital content simultaneously disseminated on 200 LED screens in the outlets of a retail chain is the dream of merchandising directors and shop managers who don't have to dress their shop windows time and again, when a communication campaign is launched.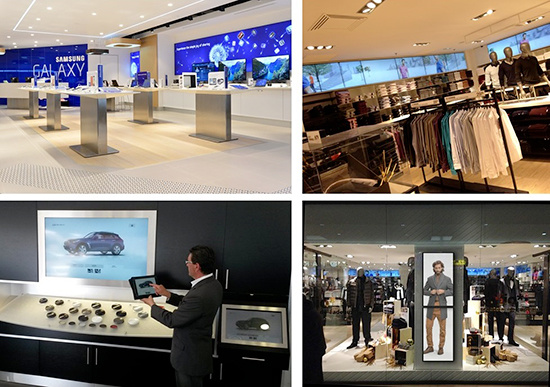 Digital retail signage technologies also include:
Touch-screen direction terminals

Interactive totems
Social Walls:
Media facade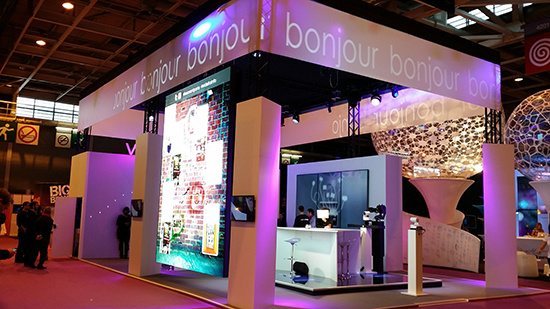 Interactive and multi-sensorial solutions:
LED screens become interactive and trigger the visitor's senses with content that reacts with the movements of the person standing in front of the screen, or who walks over interactive flooring. Look at the giant interactive aquarium in the So Ouest shopping centre in Levallois: https://www.youtube.com/watch?v=IHf28gehh0I
Other solutions have emerged with live portraits in the SO Ouest shopping mall. Customers can use a special terminal to take their photograph and then have it immediately displayed in the shopping mall in one of the picture frames provided for this purpose. See the video for the Nokinomo solution.   https://www.youtube.com/watch?v=Otk7sE4BTT4
However, be careful when these screens are located outside, on a building facade for example, there are certain regulatory requirements to be taken into consideration.