How to modernize the production, post-production and broadcast system of a television channel ?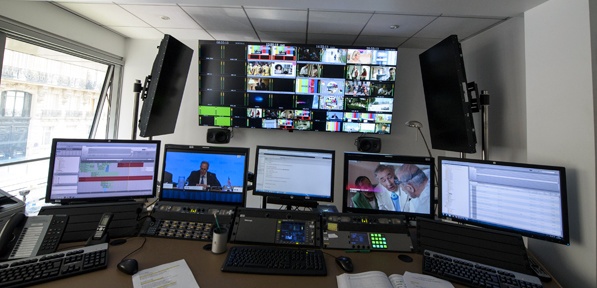 TV5Monde
How to modernize the production, post-production and broadcast system of a television channel ?
BUSINESS CHALLENGE
TV5 MONDE is an international french language television service based in Paris. The channel can be viewed worldwide through cabled networks, direct satellite reception, Internet providers as well as via some terrestrial networks, notably in Africa.
TV5 MONDE is broadcast in 200 countries and territories and brings in each week some 55 million viewers, making this channel the premiere french speaking general content channel worldwide.
For the television channel  TV5 Monde, the broadcast of video contents is a major issue as continuity of operations must be assured at all times. It's for this reason that the channel recently invested in an all new production, post-production and broadcast system. TV5 Monde selected VIDELIO-Preview to meet the challenge and gave the company full responsability to build the entire system all while respecting tight deadlines and offering an open solution which can easily grow to face future needs.
TECHNICAL SOLUTIONS

The goal of the project was to focus on automating processes, assist production and supervise the operation of the entire system. VIDELIO – Preview, as an expert designer in the engineering and integration of broadcast, IT and archive solutions gave TV5 Monde the help it needed through its specialists in the fields of process control and the integration of diverse media domains.

There is a strong probability that within the next 3 to 4 years new needs and new technologies will appear. It was therefore a strong requirement for the system installed to be flexible and capable of evolving to face the challenges of tomorrow.

The main concern for TV5 Monde in this project was to associate itself with a partner capable of supplying the entire system within very short deadlines.

BENEFICES CLIENT

TV5 Monde had at its service an experienced team of 6 broadcast engineers completed by a systems engineering team with around 20 technical experts and wiring staff.

With more than 20 years experience in building complex systems for television channels, VIDELIO – Preview has the knowledge to understand the needs of TV channels and modelize their workflows all while offering complete assistance through its experts in process management and the integration of diverse media fields.

VIDELIO – Preview brought to TV5 Monde's service more job know-how and better workflow analysis methodology. This in turn allowed better fluidity and efficiency in managing the channel's transformation project than a software company or a traditional broadcast supplier could have supplied. The dual media/IT expertise completed by the experience in systems and maintenance give VIDELIO – Preview a unique position on the market.