CINESON, how to deliver 5 new television sound mixing studios in record time ?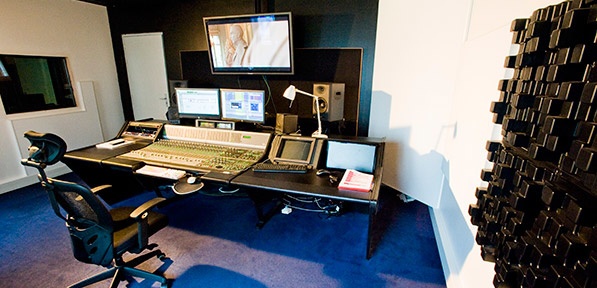 CINE SON
How to deliver 5 new television sound mixing studios in record time ?
CLIENT ISSUES
CINESON is specialized in audio post-production (sound recording and mixing) and allows producers to edit, adapt and mix audio programmes for a constant broadcast quality over all TV channels, given the constraint of various technologies and broadcast standards.
CINESON must renew on a regular basis or upgrade its equipment to offer its clients the latest and best technologies for audio post-production. In 2013, to face the ever increasing demand of the audiovisual production market, CINESON decided to create 5 new studios. They would have to be available around the clock and comply with very demanding technical specifications especially suited to the finalization of television programmes. In fact, the main constraint of the project was that the studios continue to operate while the transformations took place in order to remain totally available for producers, post-producers and television networks.
[diapo-12]
TECHNICAL SOLUTION
VIDELIO – Cap'Ciné has been working with CINESON for many years, so the creation of 5 new studios turned out to be a natural extension of this long relationship and also a story of friendship between teams.
By calling upon VIDELIO – Cap'Ciné, CINESON benefitted from experts and specialists in the post-production field who gave advice, created customized technical solutions and services within the frame of a complete turnkey solution.
The teams were able to build the project while taking into account the strong time constraint, in fact, the task was completed in 3 months whereas the initial estimate was 6 months. CINESON was also able to continue using its studios on a continuous 24/7 schedule. To do this, the VIDELIO – Cap'Ciné teams installed the studios in temporary suites in order to allow the sound engineers to continue working while the new constructions were underway. Simultaneously, the teams installed the wiring for the final installation all while working in complete silence to avoid disturbing the adjacent studios with unwanted noise. Each new studio had to be completely
"On Air" ready in half a day in order to keep a maximum amount of studios available for CINESON's customers : TF1 Production, M6 and several regular major programmes such as Les Reines du Shopping, Un Dîner Presque Parfait,…
The partnership with VIDELIO – Cap'Ciné gave CINESON the advantage of having a single company to consult for the entire project. Project description, counselling, engineering, equipment supply, installation, first power-up, tests, final acceptance tests, initial online operation and staff training were all accomplished by
VIDELIO – Cap'Ciné.
Finally, VIDELIO – Cap'Ciné also developed synergies with other companies inside the VIDELIO Group and called upon VIDELIO – Preview's expertise to deliver for CINESON a complete turnkey system including the studios themselves and a technical machine room.
CUSTOMER BENEFITS
Yves Zarka, CINESON's founder, benefitted for his project of a high level of expert advice in the choice of new equipment and by a very smooth and professional deployment of the chosen solution.
As Yves Zarka quoted : « working with such professional teams gives me complete confidence in obtaining a very fast return on investment. VIDELIO – Cap'Ciné's experience allows to integrate their teams completely into our daily operations, to anticipate technological changes and give our customers a comfortable production environment while the new systems are being built ».
VIDELIO – Cap'Ciné, with its unique showroom in the centre of Paris, offers the possibility to prepare and test full-scale solutions for a client and therefore avoid radical technical transitions which could have detrimental effects on the production performance.