Sky Princess : the most exciting entertainment venues
Launched in October 2019 from shipbuilder Fincantieri in Monfalcone, Sky Princess cruise ship is the 4th Royal-class vessel in the Princess Cruises  fleet.
Thanks to our customers' trust, VIDELIO HMS has been associated to this exciting project, providing a complete entertainment installation including design, supply, installation and set-up of the stage machinery, the  broadcast centre, the audio and the video over the several venues.
VIDELIO – HMS' teams are proud to be part of this project. They participated to the construction of 23 aeras ! 
S.P.A

MEETING ROOM/CHAPEL

ATRIUM

MAIN LOUNGE

WHEEL HOUSE BAR

UPPER & LOWER DINING

AFT DINING ROOM

BISTROT

ITALIAN RESTAURANT

BAR AMERICA

PRINCESS LIVE CAFÉ
AFT VENUE

FORWARD POOL

FWD & AFT LIDO RESTAURANT

SANTUARY BEACH RESORT

GYM & AEROBICS

KIDS TEENS AREAS

RETREAT

CREW MESS / OFFICERS MESS

CREW DISCO / CREW GYM / CREW SMOKING ROOM

CREW TRAINING ROOM

BROADCASTING CENTER

SPORT PARK
Some Pictures to discover astonishing innovations.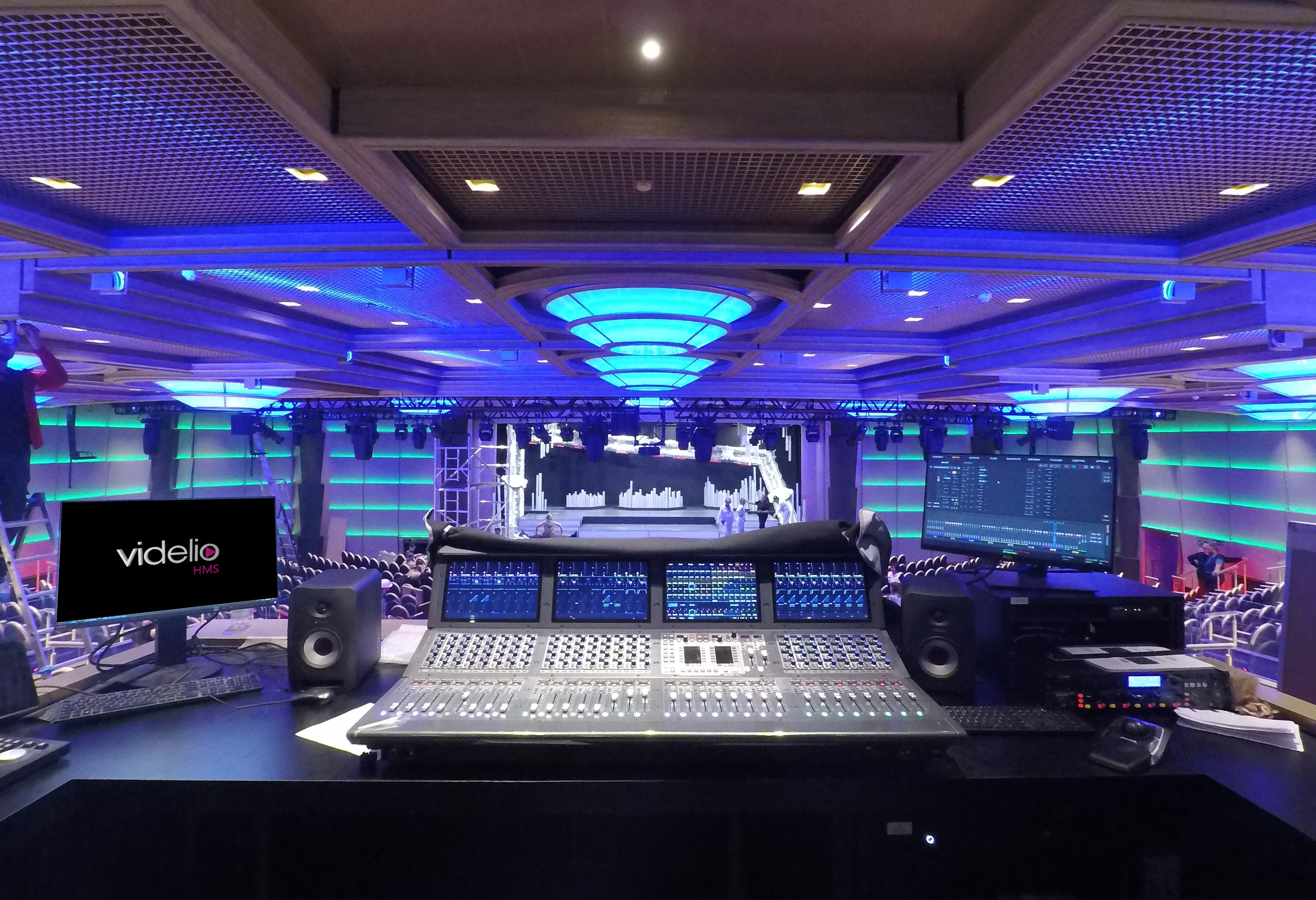 MAIN LOUNGE
67 speaker D&B (line-array – ceiling) 13.000W
3 video projectors 12.000 ANSI Lumen
1 Mixing Console – 48 Channel Includes DIGIDESIGN
1 Lighting Control Console GRANDMA 2 – MA LIGHTING

The 2-level Princess Theater (decks 6 and 7) is the ship's main show lounge. In this ultramodern theater, a state-of-the-art lighting system illuminates the stage. The lighting control console is a  grandMA2 Lighting Consoles by MA Lighting.
Shows are run on a  Mixing Console – 48 Channel Includes DIGIDESIGN.
VIDELIO – HMS provides the best vertical platform movement and horizontal scenery cart solutions. The fixtures within the theatre include: 22 flying bars, 1 austria curtain,   9 serapid tracks and 2 sliding trap.
LED WALL IN FORWARD POOL
The 300ft² Movies Under the Stars outdoor poolside theatre is equipped with a 70,000W sound system. The giant LED movie screen is designed to show a variety of programming during the day.
The Led Video wall is comprised of 56 video panel DAKTRONICS led pitch 8 mm.
The sound system consists  of 18 speaker  D&B 4 SUB D&B line-array system.